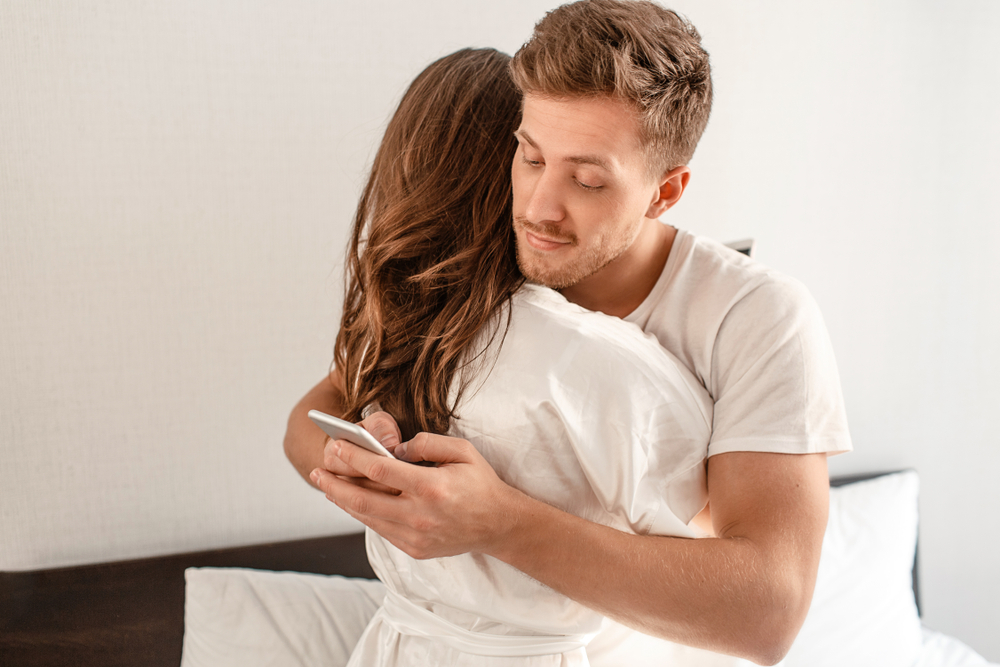 No one enters a monogamous, devoted marriage with the idea of being betrayed and having their lives torn apart by the person they love and trust most in the world. But according to the American Psychological Association, infidelity is the primary cause of up to 40% of divorces. There are almost always other existing problems that precede an affair, but once that line is crossed most marriages have a hard time recovering. And for many couples, having an affair on either side is the final nail in the coffin. The hardest sting occurs when the loyal spouse is completely blindsided by the betrayal. Fortunately, there are some obvious signs that can help you catch a cheating partner.
Enhanced, Guarded, or Secretive Tech Habits
Most Americans have access to multiple types of tech devices such as smartphones, tablets, and laptops nowadays. They're required for education, work, socialization, and relaxation. But they're especially important due to the current health situation. Of course, the extra tech usage makes it a lot easier to cheat on a spouse and also catch a cheating partner. According to a study by YouGov Omnibus, 7% of all adults on dating apps joined to cheat on their partner, and 17% of all adults on dating sites in 2019 were there to cheat. That number rose through the pandemic. So pay close attention to your honey's tech habits.
Unusual or Unexplained Expenses
Most couples share household expenses or at least have some idea of their regular accumulative weekly or monthly expenditures. So covering the financial tracks of an affair can be challenging. And don't kid yourself, the cost of cheating can add up fast. According to one study, the average six-month affair can cost over $2,660 due to dates, dinners, gifts, hotel rooms, and other incidentals. If you notice unusual or unexplained expenses, it could be a sign your partner is having an affair.
Emotional and/or Sexual Intimacy Changes in the Relationship
The most intense part of any romantic relationship, known as the "honeymoon stage", can last anywhere between a few months and a few years. After that, however, most committed relationships tend to stabilize and form stronger emotional bonds that create a more secure and balanced partnership. If your partner has suddenly pulled away and emotional intimacy has suffered or even stopped altogether, that can be a sign that they're getting their needs met elsewhere. Significant or sudden sexual changes are good indicators as well. Most people assume lack of sex is an obvious sign of infidelity. But guilt can also result in the disloyal spouse also wanting more sex at home to cover their tracks.
Sudden Moods, Avoidance, or Deflection When Confronted about Relationship Problems
It always takes two to make or break a relationship, but infidelity is a solo decision and often one that leads to a one-way ticket straight out of the marriage. Chances are your partner's smart enough to know that last bit, so they'll go out of their way to hide the affair. That stress builds up though, and they'll be more likely to deflect, attack, or avoid accusations or discussions of relationship problems. Give us a call when you've had enough and are ready once and for all to catch a cheating partner.
https://www.cheatingspousepi.com/wp-content/uploads/2021/06/shutterstock_1327341044.jpg
667
1000
devcheat
https://www.cheatingspousepi.com/wp-content/uploads/2019/03/asg-logo3.png
devcheat
2021-06-18 17:19:22
2021-06-18 19:48:46
4 Signs Your Spouse is Having an Affair