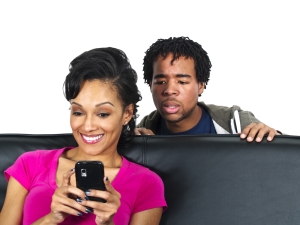 Everyone occasionally has sweaty palms, a sinking stomach, a flash of clarity, or recurring feelings about a person or situation in life. Those signs can be a gut feeling or intuition. When intuition strikes, it shouldn't immediately be ignored. After all, true intuition can be right up to 90% of the time, at least at the moment. However, anxiety and paranoia can also provide the same signs and feelings, especially when you're dealing with a potentially cheating spouse. Fortunately, there are some easy ways to catch the cheater for good, so you can stop feeling like you're going crazy or being gaslighted.
Surprise Visit
Most spouses know each other's schedules and have specific times during the day when they reconnect and spend their family time. But if your spouse is cheating, it's especially important to him or her that you stick to that schedule. And that's precisely why you should mix it up! Head over to their workplace for a surprise lunch date. Pack a picnic basket or have reservations set for a special restaurant to cover your tracks. After all, it could actually result in a nice romantic date. But it could also reveal a coworker crush or hidden infidelity.
Engage in Smart Snooping
Almost all Americans today, approximately 97%, own some type of cellphone. And 85% of those are smartphones. Technology makes it much easier to catch a cheating spouse. If you're going to check on them via technology, keep it simple. Check their phone for hidden or new contacts. Scan their text messages and messaging accounts for intimate or indecent content. And check their social media accounts for new contacts or favorites.
Keep a Journal
Gaslighters get their kicks by using psychological manipulation to confuse their partners and make them doubt their sanity. Many cheaters are experienced or pathological liars. It's easy to get confused about details when you don't have them written down in front of you. So document the important things. Keep dates, times, bank records, credit card transactions, and even car mileage in a journal for easy access. A cheating spouse may be able to make you question your emotions, but they can't ignore documented facts.
Follow Your Gut… Literally
As a last-ditch approach after you have plenty of evidence, you can potentially follow your spouse on your own or enlist a friend for some easy surveillance. However, at no time should you ever attempt this if it might put you or a loved one in danger. If following is a safe option, use a different vehicle or even two if available. Disguise your appearance somewhat, even if you just don a wig, hat, or hairpiece. And never do anything illegal such as trespassing or breaking and entering to get "proof".
Hire a Private Investigator
The best-laid plans can easily blow up in your face, and even hard-earned evidence can be tossed out of court on legal technicalities. Sometimes, it's just best to leave it to the pros. The right private investigator for cheating spouses can get the evidence and surveillance you need without sacrificing your time, sanity, or security. Give us a call when you're ready to get the facts and find out once and for all if you're dealing with a cheating spouse.
https://www.cheatingspousepi.com/wp-content/uploads/2022/01/shutterstock_101357911.jpg
750
1000
devcheat
https://www.cheatingspousepi.com/wp-content/uploads/2019/03/asg-logo3.png
devcheat
2022-01-20 16:25:44
2022-05-20 18:46:28
5 Ways to Catch a Cheating Spouse